Mental Health and Wellbeing
Mrs Bedford (Headteacher) is our Social, Emotional, Mental Health Leader (SEMH)
The mental health and wellbeing of our children and adults is of great importance to us here at All Saints. Our vision is for all children to feel happy, inspired, challenged and 'love to learn'. We aim to achieve this through the celebration of our outdoor environment, community 'family' approach, knowing our children well and always a little sprinkle of humour and fun.
All Saints' School Dog
Our school dog Pepper joined the teaching staff in June 2019. She is a black working Labrador, chosen for her friendly, sociable nature and is being trained as a Pets As Therapy dog. Children can benefit educationally and emotionally, increase their understanding of responsibility and develop empathy and nurturing skills through contact with a dog.
The children are the owners of the dog (with Mrs Bedford, Headteacher) and helped to choose Pepper's name by taking part in a naming ballot.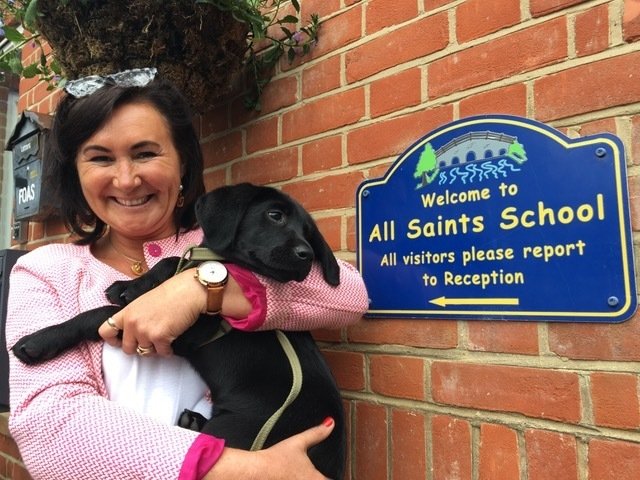 Information for parents - FAQs
School Policy and Risk Assessment
Research into the educational and emotional benefits- links coming soon
Emotional Literacy Support Assistant (ELSA)
All Saints is delighted to have a trained Emotional Literacy Support Assistant (ELSA) to help our children with emotional concerns such as anxiety, self-esteem, loss and bereavement. Ms Dale Allen is part of the National Schools ELSA Network and can support parents and staff in sourcing the help a child may need. Ms Allen runs therapeutic support sessions in school.
Using the Environment to Support a Healthy Lifestyle
Early morning Yoga in Outside Classroom
Mindfulness in Bluebell Wood
Pause Day
Circle of 10